History
Did you know that chiropractic dates back to the time of Hippocrates? He believed that if the spine was misaligned, it greatly contributed to the health of an individual.
The modern day school of chiropractic dates back to 1895, when Dr. Daniel Palmer adjusted a man that had lost his hearing 17 years prior. The story goes that prior to losing his hearing the man had heard something pop in his back. Upon the adjustment of the man's misaligned vertebrae his hearing greatly improved.
While the medical community criticized this new technique for healing the body, the people who followed in these footsteps found an amazing new way of dealing with illness and disease. Dr. Palmer's theories are still discussed in the chiropractic industry today. Without this man's input into medicine in a time where he was greatly discredited, the millions of people today who enjoy the life changing benefits may never have had this opportunity. There is still a school named after Dr. Daniel Palmer as well as over 20 schools and thousands of chiropractic students across the country.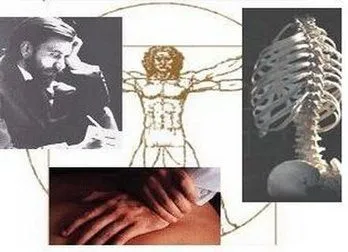 Criticism of this new healing technique came from many, especially the medical community, as it did not involve the traditional medical theory of health. For years, chiropractic was discredited, made fun of and even referred to as quackery. A lot of this still goes on today, but, unfortunately, this is due to misunderstanding. Many people do not understand the concept of chiropractic and have only listened to the propaganda that's been broadcast. A conference sponsored by the National Institutes of Health in 1975 spurred the development of chiropractic research, and as a result, in the early 1970's insurance companies started to recognize chiropractic as legitimate health care and allowed claims to be paid for chiropractic care. By the mid 1990s there was a growing scholarly interest in chiropractic, which helped efforts to improve service quality and establish clinical guidelines, further advancing the profession to become the most widely utilized form of health care, outside of mainstream medicine. Chiropractic is well established in the United States and is the third largest health profession, behind medicine and dentistry.
In 1897, Dr. Palmer opened the first chiropractic school in Davenport, Iowa, calling it the Palmer Infirmary and Chiropractic Institute. The name was later changed in 1907 to Palmer School of Chiropractic. Enrollment at first was low, with only 24 students in 1906, but today there are over 31 schools worldwide, 20 of which are in the United States, with enrollment of over 15,000 students. A recent study estimates that by 2010, the number of licensed chiropractors in the US will reach over 100,000.